IV Nutrition at Parker Integrative Health
The IV Nutrition Advantage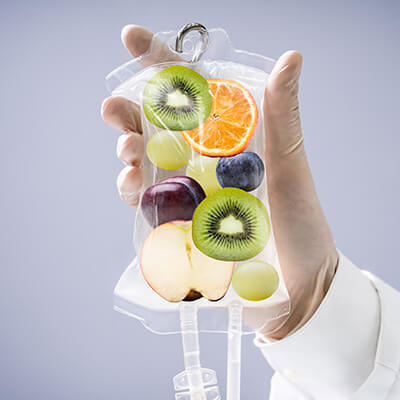 Aging can be frustrating. Our skin starts to sag, it gets harder and harder to lose weight, we don't heal as fast as we used to, and we start feeling tired around the clock. This is because, as we age, our bodies stop getting the proper nutrition it needs to fight off stress, inflammation, heavy metals, and toxins.
There is no doubt that we are all degenerating on a daily basis. We can help you turn back the hands of time and get the IV Nutrition Advantage. We create a unique blend of high-quality nutrients that are specifically catered to your needs. These nutrients get absorbed by the body and help slow down the body's degeneration. The IV Nutrition Advantage helps your body recover and heal much quicker, while at the same time creating a positive effect on your mood.
These are just a few of the many health benefits of the IV Nutrition Advantage. Now, there is only one thing to ask, are you ready to feel younger again?
Other Benefits of the IV Nutrition Advantage
Muscle recovery
Detoxification boost
Tissue repair
Assists with mood stabilization
Fights stress
Minimizes fatigue
Improves recovery
Reduces inflammation
Assists with minimizing pain
Choose your IV Nutrition Package
We have a variety of "cocktail" recipes for you to choose from. Immune boosting, energy busting and anxiety reliever our some of our most popular blends. These IV bags are filled with nutrients, vitamins, and minerals to help get you back to doing what you love!
3 Things You Should Know About Our IV Nutrition Therapy
It's Safe. Making our patients feel safe is our number one priority. That is why from assessment to mixing to drips; we only let highly trained professionals take care of you. Rest assure that all drips that are administered from our office are not only of the highest quality, be we are always safe.
It's Quick. While the quality of our nutritional IVs are exceptional, our highly trained staff will ensure you are prepped, administered, and feeling good in no time. Most of our IV Nutrition therapy sessions last an hour or less, so you can easily fit us in during your day.
It's Effective. We only use the highest quality nutrients. Our process ensures that all of that nutritional goodness makes its way to your body for quick absorption. We want you to feel the best that you can be!
What You Should Expect
For first timers, you will need to see one of our friendly staff for initial consultation and assessment. This ensures that we can pick the proper IV nutrition solution for you.
We will then administer the IV. Don't worry; you will only feel a mild prick. We have one of the greatest RNs around! The process will probably take about an hour. At this point, you only need to relax! You can read a book, play some video games, or even take a nap.
Now for the fun part! Going out into the world knowing that you are now supercharged with an age-defying natural booster.
CONTACT US »

IV Nutrition Parker CO | (303) 841-9565