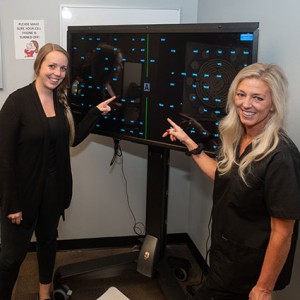 Interactive Metronome (IM) is another therapy that we utilize as part of our brain training program. IM is an evidence-based, non-invasive training and assessment tool that's used for various cognitive and neurological conditions.
With this therapy, we focus on timing in the brain which is critically important. Think about somebody who's impulsive; their timing would be a little fast. They need to slow down some. Or for somebody who has processing issues, their timing's a little slow or uncoordinated, or it's just not in sync with the rest of the brain.
Conditions IM Can Address
Here are some of the different issues that IM can help:
ADD/ADHD
Alzheimer's disease
Anxiety
Autism spectrum disorder (ASD)
Lyme disease
Post-traumatic stress disorder (PTSD)
IM has been proven to improve attention, cognition, focus, memory, comprehension, motor and sensory skills and many more.
How Does It Work?
IM utilizes a series of various movements to reach the desired trigger on a particular beat. By practicing different sequences patients can work on improving their neuro-timing. As millisecond accuracy improves, neural efficiency is increased.
Book an Appointment
Find out if Interactive Metronome therapy is right for you. Contact us today to book a consultation!