PRP Services at Parker Integrative Health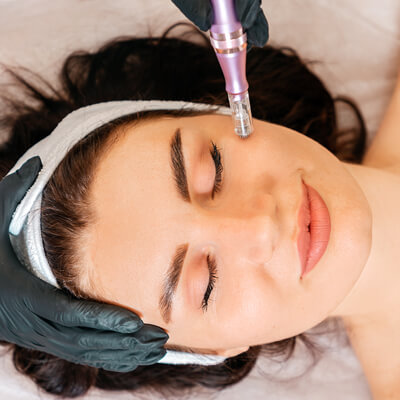 Perhaps you want to turn back the clock and diminish fine lines and wrinkles without going under the knife. Or maybe you want to stimulate hair growth and prevent hair loss. At Parker Integrative Health, we're pleased to offer patients natural facials and hair treatments using RegenLab platelet-rich plasma (PRP).
What Is It?
This natural product is created from a small sample of your blood, drawn at the beginning of the procedure. The blood sample is placed in a centrifuge that separates the blood into multiple layers, one of which is the platelet-rich plasma. This substance has an abundance of growth factors involved in wound healing and natural tissue growth.
Here's a look at the PRP services we're offering:
Microneedling
This non-surgical treatment can dramatically improve the appearance of your skin. Microneedling with PRP is a natural alternative to doing BOTOX or getting a facelift. The service is ideal for anyone who wants a firmer facial appearance, if they're starting to notice fine lines and wrinkles. "You can achieve a youthful appearance using your body's own healing regenerative properties," said Dr. Rob.
What's involved?
The process includes taking the patient's blood cells out like a typical blood draw, and there's a very specific centrifuge and collection kit that comes with the particular procedure. We spin that down and collect the platelet-rich plasma.
Next, microneedling is performed. This uses very small needles that make tiny punctures through areas where you have a lot of wrinkles. A special serum is placed on the skin, and then the microneedling is done one more time.
The benefit of the serum is it makes you produce significantly more collagen. With this service, you can enjoy a more natural appearance, minimize fine lines and facial discoloration, plump sagging skin, and reduce acne scars.
How many sessions are needed?
Typically, it takes four sessions over four months so once a month for that period.
Hair Treatments
If you want to achieve a thicker, healthier head of hair, and ward off hair loss, consider a hair treatment, which uses your body's natural healing abilities to stimulate enhanced hair growth. Platelet-rich plasma boosts your naturally occurring growth factors to activate healing in the skin and scalp.
When the substance is injected into the scalp, it transmits signals to your body to regenerate the area, including your hair follicles.
Here are some benefits of this natural hair loss treatment:
As the substance is harvested from your body, there is no chance of an adverse reaction
The natural product promotes natural healing, helping boost blood flow and cell growth in the treatment areas
The substance can help existing hair follicles strengthen and grow
The treatment is non-invasive
No downtime is needed
How many sessions are needed?
Usually, hair restoration involves three sessions, placed between 5-6 week intervals. We recommend maintenance treatments at least twice a year.
FAQ
One of our nurse practitioners who has achieved certification to provide the services.
Does insurance cover the services?
No, because they are cosmetic procedures.

PRP Services in Parker, CO | (303) 841-9565