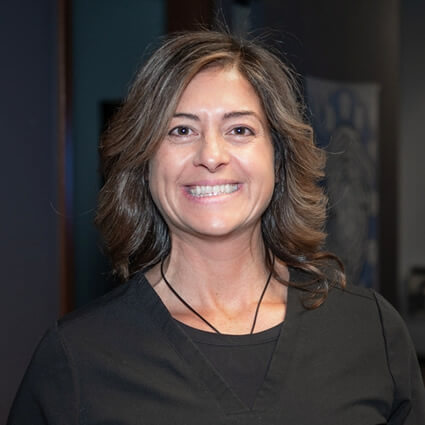 Meet Dr. Paola Porrone,

DC, BCN, CFMP, FIBFN-CND
Dr. Paola is a licensed Chiropractor serving the Parker community with exceptional natural chiropractic care. She was born and raised in a little community in southwestern Ontario, Canada called Leamington.
As a Chiropractor with considerable experience, Dr. Paola is committed to promoting the health and well-being of her patients. At Parker Integrative Health, she also provides natural pain relief for patients so they can return to the activities they love in life, without discomfort.
Qualifications
Before embarking on her journey toward becoming a Chiropractor, Dr. Paola completed her undergraduate studies at the University of Windsor and Brock University. She earned her Doctor of Chiropractic from Parker College of Chiropractic in Dallas, Texas.
Dr. Paola continues to educate herself and specialize in the fields of pediatrics, prenatal care and neurology. She is currently enrolled in a functional medicine program and concurrently enrolled in a Diplomate of Chiropractic Neurology program. Dr. Paola also has the following credentials:
Board certified in neurofeedback
A Fellow of the International Board of Functional Neurology
Certified in functional neurology from the American Functional Neurology Institute
A Passion for Helping Children
Dr. Paola has shifted her focus to assisting young children with developmental and learning disorders using a state-of-the-art, cutting-edge technology with the Neurointegrator system.
In such a short time, we have seen miraculous improvements in children with autism, Asperger's and ADHD. It is such a blessing to be able to assist and watch these children improve in so many aspects of their lives!"
Taking a Holistic Approach
Dr. Paola uses a whole person approach. This wellness approach means looking for underlying causes of any disturbance or disruption (which may or may not be causing symptoms at the time) and make whatever interventions and lifestyle adjustments that would optimize the conditions for normal function. Using this unique approach, Dr. Paola is able to help you to accelerate or maintain your journey to good health.
A Chiropractic Family
Dr. Paola and Dr. Rob are the proud parents of two beautiful chiropractic children, Gavin and Lylah. Both children were born at home with the help of a midwife and have experienced whole health from the very beginning, being adjusted just minutes after their births.
Get Started Today
Contact Parker Integrative Health today to schedule an appointment.

Dr. Paola Porrone | (303) 841-9565