Chiropractic Care At Parker Integrative Health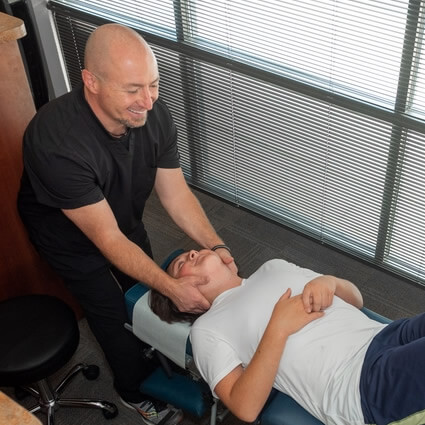 The goal of chiropractic is to remove stress from your nervous system. In making sure your nervous system is healthy, your body will be able to function at its highest potential. We're each designed to self-heal and self-regulate. What stops those natural abilities is interference to the nervous system, which is responsible for the control and coordination of everything in the body.
There are many ways to take stress off your nervous system. We use manual chiropractic adjustments, low-force techniques and neurological rehabilitation. Our treatment options are neurologically based, which will make long-term changes in the body. The techniques we use most often include Diversified, Thompson, Activator®, Quantum Neurology, Koren Specific and Applied Kinesiology.
Who Can Benefit From Chiropractic?
You don't have to be in pain to see a chiropractor. Many of our patients, however, come to us due to common concerns such as
Headaches
Sports injuries
Carpal tunnel syndrome
Ankle sprain
Knee pain
Low back pain
Whether your problem is chronic or acute, we have the tools, techniques and experience to assist you. Some of our patients have been suffering for years or even decades. Others have had a slip and fall or an onset of pain in just the last couple of days. No matter how long you've wanted to improve your wellness for, we are here to help you get there.
Safe and Comfortable Methods
Never in the history of chiropractic have we been able to provide the level of help and expertise that now exists. These newer correction methods are safer, more comfortable and more effective than ever before. As Doctors of Chiropractic, Dr. Robert Birch,  Dr. Paola Porrone  and Dr. Mackenzie Meehan have years of training and experience in spinal adjustment.
The wellness approach looks for underlying causes of any disturbance or disruption and makes interventions and lifestyle adjustments that will optimize the conditions for healing and vibrant health in your body. This approach stimulates your natural healing processes and minimizes the need for any invasive forms of treatment.
Our team can help you go beyond being simply pain-free or asymptomatic. We'll help you achieve an open-ended opportunity for vitality so that you can enhance your overall life experience. What we do affects not only your physical health, but your emotional and mental well-being, too.
Frequently Asked Questions
Why would someone see a chiropractor?
Chiropractic has become increasingly popular over the last decades. People are eager to find more natural ways to promote their health rather than masking symptoms with medications or finding short-term solutions like popping pills.
Is there an age limit to chiropractic?
There's nobody that's too young or too old to potentially benefit from what we do. Our patients have included newborn babies and those in their 90s. If you're curious about chiropractic, we welcome you to schedule a consultation with us.
We would never want to cause you any discomfort. Our methods include gentle, instrument-based techniques that we'll be happy to use if you are concerned about force. If an area is particularly tender, you may be sensitive to touch. We'll be sure to work around you so that you remain comfortable.
What if I've been to the chiropractor before and didn't like being adjusted?
The idea of being "cracked" can make many people feel nervous. If you've been to the chiropractor before and didn't like the more traditional, manual form of chiropractic, we have low-force solutions. Just let us know you're interested and we'll be happy to use these techniques on you.
Yes! We offer a nasal release technique that's great for headaches, sinuses and traumatic brain injuries. It will remove pressure to open things up more. Our patients have seen amazing results from this technique.
Yes. We are an all ages office, which means everyone, from newborn babies to great-grandparents, are welcome here.
How will you know if chiropractic is right for me?
Our first visit process is designed to answer the question, "Can we help you?" We want to make sure that your complaint is within our scope of practice. We'll carry out a thorough consultation and examination. After doing so, your practitioner can study the results of your case and understand how best to help you. If we do not feel that we're suited to your needs, we'll inform you immediately.
Learn More Today
Are you ready to reach a higher level of wellness? Our team is here for you. Contact Parker Integrative Health now to set up your initial appointment! We're open late for your convenience.
CONTACT US »

Chiropractor In Parker CO | (303) 841-9565