New Patients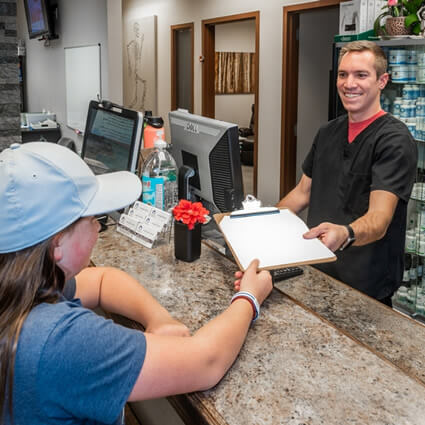 First impressions are important. That's why we'll focus solely on you the moment you step foot in our door. You've come to the right place, full of warm, caring people. You'll feel confident we won't leave any stone unturned to get you results!
How to Prepare
If you're coming to us for functional medicine, bring in any labs you've had done in the last year. Chronic pain patients should bring any imaging they have. We prefer to get these before your consultation so that we can review them.
Your Initial Visit
The intake process for chiropractic and medical services take 60-90 minutes. For neurofeedback, it's about two hours. The goal is to make sure what you need help with is in our scope of practice. We'll do an exam, then analyze the findings to make our best recommendations with you.
Your Second Visit
When you return, we'll go through the results of your examination and what we think is the best way to reach your goals. You'll have all the possible options detailed to you. If you have a treatment, this appointment takes about 90 minutes.

New Patients | (303) 841-9565